For Parents
New to the program? Welcome to Future Bound Miami!
We are so glad that you have taken this step of investing in your child's future by opening a children's saving account or CSA through Future Bound Miami! Your child deserves to thrive and dream big and we believe that saving for those dreams makes a huge difference.
You can learn more about the research behind these types of accounts and details about how our program runs by reading our "Frequently Asked Questions" page. Your child will have this account until they graduate high school so we encourage you to make the most of it! Deposits through our banking partner EdFed will gain interest over time and thankfully your kindergartner has a lot of it until they're ready for postsecondary education.
In the meantime, we'll partner with you in your goals through the following rewards programs!
Account Rewards/Incentives Include:
Just for opening your account, $25 was automatically deposited! If your child qualifies for free or reduced lunch, they received an additional $25, for a total of $50 free.
$200 Activation Sweepstakes: For the last four weeks of our Spring 2021 activation period, all opened accounts will be entered to win a $200 deposit into their CSA! Ten winners will be randomly chosen every week, so the sooner your account is activated the better. And parents that have already activated their account can win an extra entry by participating in our Champion program described below! One winner per family and one additional entry per family.
Be a parent champion: During our activation periods, you can earn money for your child's account and help us get the word out about the program! Simply refer a friend or help them sign up for their account and you'll get $5 deposited into your child's savings account, up to $25 per child. Just send us an email with the friend's name after they've activated their account!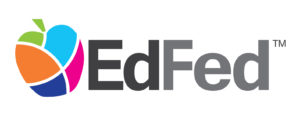 MAKE A DEPOSIT TODAY!
South Florida Educational Federal Credit Union (SFEFCU) is now EdFed! Visit a branch near you and make a deposit into your child's Future Bound Miami Account. For a full list of branch locations visit: www.rebrand.ly/FBMdeposit
You will need your child's name, the name of their school, and their student ID number.
Check your balance: Log on to the M-DCPS Parent Portal and click the Future Bound Miami banner to be automatically signed into your Savings Tracker.
Financial Education Resources:
Sign up for our mailing List:
Please update your contact information to make sure you are receiving all updates and information regarding your child's savings account through Future Bound Miami.
Questions?
For more information, speak with your school administration or reach out to us at the contact information listed below!